Alaska Mountain View Lodging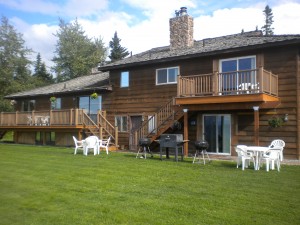 Alaska mountain view lodging at Alaska Fish On Charters has opened a new place that has beach side lodging that offers spectacular vistas of Cook Inlet and the towering mountains of the Alaska Range.
The new place is located just off the mouth of the Kenai River. This view is unmatched as it holds some of the largest mountains south of Mt McKinley, including Mt Redoubt, Mt Spur, Mt Iliamna & Mt Augustine.
The lodging consist of a 4400 square foot area that will have 3 areas for lodging and will accommodate up to 4 people in each with all the amenities for cooking and bathrooms that one needs for comfort. We will also have barbecues and picnic tables that over look the inlet to relax at while watching the Inlet waters and Mountain views. View Rooms
The picture on this page are just a few of the Mountain views and wildlife that one will see while relaxing in your rooms or just sitting along the beach side. One will have to see what we are talking about to know just how breath taking it is as it all gives you the feeling that you are in Alaska and not just some lodging facility.