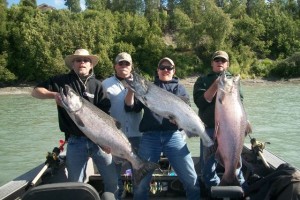 Alaska Fish On Charters! Specializes in fishing on the Kenai River and offers other services, too, like bear viewing trips in the great Alaskan outback. If it's Alaska salmon fishing you want, Gary is the man to see. With more than 30 years of experience, he's a favorite of both clients and fellow guides. According to the State of Alaska Department of Natural Resources, Gary respects the area's environment and "provides a safe and positive experience for his clients."
An expert in the four species that are common in the Kenai Peninsula (King, Sockeye, Coho, and Pink), Gary has the experience to know which fish are worth keeping and which are starting to turn bad. Alaska Salmon Fishing Guides should familiar with the entire river system, Alaska Fish On Charters! knows where to go when the fishing in one area is not as good as it could be.
It's more than a business with Gary; it's a passion. That means he'll go out of his way to make sure your salmon expedition is as productive as possible. Gary believes that making clients happy will create more clients down the road–and give him more chances to share his love of fishing.
---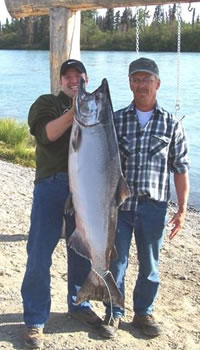 See our Alaska Fishing Packages today for some outstanding deals on the upcoming salmon fishing season. Let us take the hassles out of planning your vacation. Call us today and ask about our early bird specials.
Be the first to book. New itineraries, unheard of deals on the Best Of Alaska and it's all On Sale today! Check out our Alaska Fishing Packages