Alaska Fish On Charters provides beautiful Alaskan fishing lodging for your visit to the Kenai Peninsula. Below, you'll find some of the lodging accommodations offered that will make your Alaska fishing vacation as comfortable as possible. Our lodging has some of the best views and fishing that Alaska has to offer. Don't believe us? Check out our photo gallery.
Contact us early for best availability and to make your reservation. You will receive a response no later than 2 business days with more information. Make sure to include any special requests you may have, and we will do our best to accommodate you.
All fishing packages do not include lodging costs, so your final package price may be higher.
Come join us at our new Alaskan fishing lodge overlooking the Kenai Peninsula's Cook Inlet waters with spectacular views of the Alaskan Mountain range. Enjoy sitting outside while watching beluga whales pass along the Inlet waters as thousands of salmon head for the Kenai River. Click here for more details.
We are offering four private river access options on the Kenai river. Click here for more details.
Process Your Catch!
Our fishing lodges save you money on cleaning, vacuum sealing, and freezing your fish. We do all processing and freezing on site, while many guides do not. Instead, they might send you to a local processing plant that will charge you $2 per pound. All Alaska Fish On processing is included in lodging costs.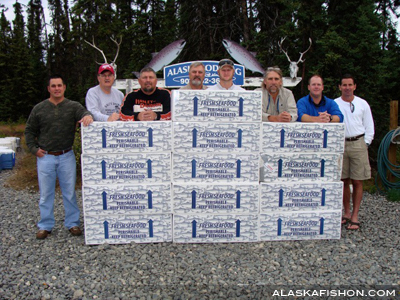 What Our Customers Are Saying
Dear Gary & Darlene,
I wanted to thank you for setting up a great trip for us. Everyone in our family that went enjoyed themselves immensely and those that didn't go were envious! We were able to experience a lot of what the Kenai Peninsula had to offer and we caught a ton of fish doing it. Even though we never actually got to fish together, I would recommend your services to anyone I know. If we want to fish with you, we need to book early. The scenery was amazing and the fishing was great. The lodge was very roomy, functional, comfy, and well-equipped along with exceptionally clean. Brandon was so much help with the vacuum packing and freezing of our fish Thanks again for helping provide a trip of a lifetime.
Sincerely,
Sontag Family
Dear Gary and Darlene,
Thanks so much for your wonderful accommodations and fishing trips on our first ever Alaska vacation. You made our trip very memorable and all of our family can't wait to do it all over again. The wakeup call from Darlene when she said it's time to fish was appreciated when we all over-slept while Gary waited. Those long June days up there take some getting used to for us "lower 48 folks," especially for Ma and Pa.

We all enjoyed the trips out fishing with Gary so much, he was a lot of fun and made the guided trip memorable and so much fun. We will be back on his boat with him as our guide for sure! We will never forget our great experience due to all the hospitality and fun from you both as our hosts. The fishing lodge was very clean, quiet and comfortable, you guys were very helpful dealing with all of our fish, especially Ma's 40 pound Kenai King. You were always there when we needed you and as you know we were a very needy bunch. Such great fun and great hospitality. Have a great summer and we will see you next summer for another great experience.
Your friends in Oregon
Marvin and Karen, Cecil and Charlotte (Ma & Pa), Brian and Carol