Alaska Silver Salmon (Coho)
Silver salmon is one of the best fighting fish for its size and it's one of the most acrobatic fish in the world. Many say that the red salmon is the best fighter, but after snagging into a silver, you'll second guess that. Silver salmon tastes a lot like Chinook, so you'll want to keep catching them.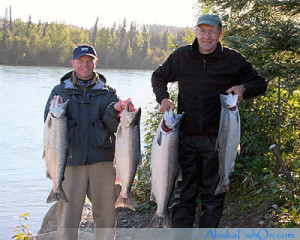 The Kenai River will get around 100,000 silvers every year. Rest assured that there will be enough of them in the river to wear you out. Some methods that'll be used to catch silvers are back-bouncing, running plugs, and a diver and eggs. Most of the time the boat will be anchored so you will be able to get up and move around the boat.
The Kenai River holds two different runs of silvers that enter at different times of the season. The starts at the end of July and runs through the month of August. The second run starts in the beginning of September and runs through the winter into February. When the river gets low in late September, the fishing gets good. The silvers on the late run will average 10 to 15 lbs. If you want some of the best silver fishing, sign up for a late season trip!