Alaska Fishing & Guide Tours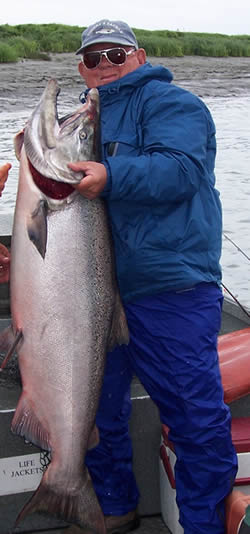 Alaska Fishing At its Best with our Top Rated Guide Service.
Types of Alaska Fishing:
If you want to fish for rainbow trout, dolly varden, halibut or any other species of salmon, you have picked the right Alaska fishing guide service.
Click here to view our frequently asked questions about Alaskan salmon and the large number of available species in Alaska.
Best Time for Fishing by Species:
King Salmon – First run: mid-May to early July. Second run: Early July to season closure on July 31
Sockeye Salmon – First run: late May to early July. Second run: Mid-July to Mid August
Coho Salmon – First run: late July to late August.
Rainbow Trout- June 11th through April 14th
Dolly Varden – June 11th through April 14th
Pink Salmon – Late July through mid-August on every even year
All daily Alaska fishing trips will be fully equipped with bait, tackle, fishing guide and any other fishing gear you may need while fishing with us. The only thing you will need is a fishing license, which you can purchase from our web site or at almost any store in Alaska. For more information on our day prices or purchasing a fishing license, click here
Other Areas of Interest: