Alaska Halibut Fishing
Alaska Halibut Fishing Video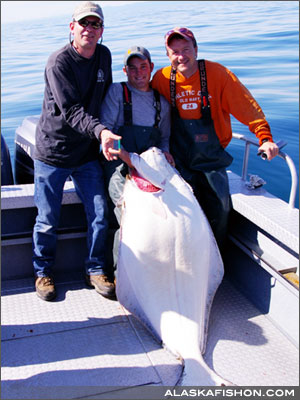 Alaska Halibut Fishing are some of the most sought after fish in Alaska. Clients like the moist, flakey texture of halibut that will go with about anything you serve. The Cook Inlet water is known for some of the best Alaska Halibut Fishing around, in fact, Homer is the Alaska Halibut Fishing capital. The thing I like about halibut is you never know what size you are going to catch when you drop your line to the bottom. The halibut will range anywhere from 10 lbs to 410 lbs. You just never know what you are going to get. The best eating halibut will be the ones weighing between 30 and 80 lbs. When they get larger the meat tends to get dry and flakey. I have caught halibut in the 100 lb range that tasted okay because of what they were eating but for the most part they don't eat as good as the smaller ones.
The larger halibut are females. Most of the guides like to let them go, so we can keep the fishery strong with good numbers of breeders and produce many more where they came from.
The halibut is a bottom feeder, and you have to keep your line on the ocean floor to catch them. Sometimes that takes a lot of weight on your line, especially when you are fishing between 150 feet of water and 250 feet of water. The Cook Inlet has a lot of water movement so it is always good to call us and ask when the better tides are so you don't end up using 5lbs of weight just to get your line to the bottom. Smaller tides are better tides for the Cook Inlet. If you are unable to book your fishing trip around undesirable tides, we would probably send you out of Seward were you would be fishing in the Gulf of Alaska waters. The waters out there do not move as much as Cook Inlet water so they are better to fish on the bigger tides.
All of our captains will fillet your fish for you and put them in a container that you provide for them. We have ice chests and bags at the lodge for you to take with you to bring the fish back to the lodge be sure to ask about it.
Alaska Halibut fishing is for the serious fisherman who wants to take home a lot of meat.