Tour Boats
Alaska Glacier Cruises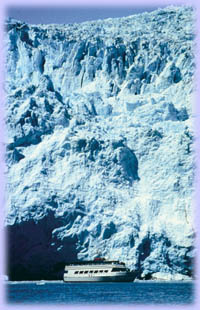 Cruises to Alaska are a great alternative for the non-fishing enthusiast! Are you going to be traveling with a party that is split on the desire to go fishing? Alaska Fish On! with Gary will be more than happy to help you plan a day trip for the wife or friends who don't care to go fishing. Two of the most popular tourist attractions in Alaska are glacier cruises and bear viewing.
Relax in splendor with 360-degree views of the untamed beauty of Alaska. Watch glaciers calve while aboard one of Alaska's tour boats. See whales breech, puffins dive for food, and bald eagles and sea otters in their natural environment. Before leaving, you can hike in the wilderness or go souvenir shopping in the small towns and villages. Stepping aboard a tour boat is a great way to spend a day in Alaska, and a great way to see Alaska up close!
There are a variety of tours to suite your needs, whether it be a four and a half hour cruise or an eight hour cruise. Fishing parties that caught their limit early can hop aboard tours that leave in the afternoon, so they don't have to sit around and talk about the 75 pound Kings they caught earlier that morning… like that's a bad thing!
A word of warning. It is very important to dress comfortably while taking a sightseeing tour on a Alaska cruise boat. The weather in Alaska can be unpredictable, so a safe bet would be to dress in layers. Most Alaska tour boats have a heated indoor cabin, but it is always a good idea to dress warm with the ability to shed layers. Lunch and/or dinners are provided on some sightseeing cruises.
Please let us know how we can help you enjoy your Alaska experience.
Dall's Porpoises (Phocoenoides dalli)
Likely to see on Kenai Fjords Half-Day and Full-Day Cruises.
These playful porpoises are often mistaken for killer whales because of their similar markings. Often you'll see them bow riding or circling the boat at high speeds, breaking the water to breathe. Generally these 4- to 6- foot mammals travel in pairs or large groups.
Steller's Sea Lions (Eumetopias jubatus)
Likely to see on Kenai Fjords Half-Day and Full-Day Cruises. This rare, endangered species lives in large colonies, feeding largely on mollusks and fish. They grow to 6 to 8 feet and weigh 1,500 lbs. (males) and 600 lbs. (females). They are distinguished from their cousins, the California Sea Lion, by their light colored, reddish fur.
Harbor Seals (Phoca vitulina)
Likely to see on all Cruises. This wide-ranging seal can be found throughout most coastal waters in the northern latitudes. In Alaska, they are often seen resting on ice floes around the active glaciers. They grow to a length of 4 to 5 feet and weigh 250 lbs.
Sea Otters (Enhydra lutris)
Likely to see on Kenai Fjords Half-Day and Full-Day Cruises. The smallest of all marine mammals, the playful sea otter spends most of its life in the water, feeding on fish, squid, sea urchins and crabs. They often float on their backs, using their stomachs as a table for their food. They are generally 29 to 39 inches long with light brown heads and flipper-like feet.
Bald Eagles (Haliaeetus leucocephalus)
Likely to see on all Cruises.Alaska is home to North America's largest population of bald eagles. They live in trees and snags, feeding primarily on fish and waterfowl. Bald Eagles get their distinctive white heads at about five years of age and they mate for life, returning to the same nests year after year.
Cormorants (Phalacrocorax)
Likely to see on Kenai Fjords Half-Day and Full-Day Cruises. These diving birds can be seen on the rocky islands and outcroppings throughout most of Southcentral Alaska. Three species, pelagic, red-faced and double-crested, can be spotted in the various colonies. Cormorants are easy to identify because they can often be seen fanning their wings to dry them out.
Common Murre (Uria aalge)
Likely to see on Kenai Fjords Half-Day and Full-Day Cruises. These deep-diving birds nest in large colonies on ocean cliffs. Their eggs are pear-shaped to keep them from rolling off of narrow ledges. Murres average 14 to 16 inches tall and are known to dive up to 300 feet in search of food.
Puffins (Fratercula)
Likely to see on Kenai Fjords Half-Day and Full-Day Cruises. This clown of the North Pacific is one of the most popular birds. It spends most of its life at sea, coming ashore only to raise its young. Both horned and tufted puffins are often seen during the cruises. Puffins gorge themselves on small fish, often making it nearly impossible for them to take off and fly. Literally hundreds of species of birds can be spotted throughout Resurrection Bay, the Kenai Fjords and Prince William Sound. The ones we've described above are the most common, but other species of birds can be seen during different times of the year
For a chance to view this type of wildlife and more, call us and reserve your Alaska wildlife cruise today. 1-888-283-4002 Check-in 1 hour prior to cruise departure May 10-Sept 21 Adults: $127 plus tax Children 2-11: $63 plus tax Children under 2: $63 plus tax (Infants are not recommended on full-day cruise.) Departs: 11:45 am Returns: 7:45 pm Cruise fare does not include applicable taxes, fees
Alaska Glaciers Kenai Fjords National Park and the mountains around Prince William Sound contain some of the best viewing areas for glaciers in all of Alaska. These glaciers and ice fields can be very large. For example, the Harding Ice Field, located in the Kenai Fjords National Park, covers more than 700 square miles and is the source of over 35 named glaciers.