Alaska Trophy Trout Fishing
Alaska Trophy Trout Fishing
Alaska Trophy Trout Fishing is a fish that is highly sought after by many fisherman including nonresident and resident fisherman. This State has many different places to fish for these brightly colored and acrobatic fish, but none of these places hold the size and numbers that the Kenai River does.
The Kenai River is a fly fisherman's paradise with an affordable price to help you get there. The State of Alaska has rivers in the bush that will produce trophy trout but many people can't afford to pay 5,000 to 7,000 for a week worth of fishing. We offer Alaska Trophy Trout Fishing for less then 2,000 the Kenai river produces several trophy trout over 30"every year and some over 35"each year.
The experience and knowledge that our guides have, produce anywhere from 20 to 40 trout a day for many clients. We have out preformed many other outfitters and guide services day after day with our experience on where and how to catch these magnificent trout. The best times of the year to fish for these trout is when the salmon are spawning and the trout are chasing them and eating on their spawn.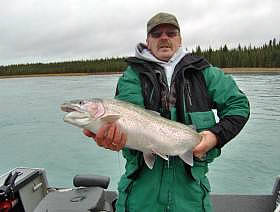 We have had our best luck for Alaska Trophy Trout Fishing in August, September and October when the majority of the salmon are spawning. The silver salmon will still be running at that time of the year so we like to throw a trout and silver salmon combo together to give you some meat to take home.
Alaska Fish On Guide Service provides fishing enthusiasts, as well as first timers, a great advantage on the Kenai River. If you want to fish for rainbow trout, dolly varden or any other species of salmon you have picked the right guide service, our referral letters show it.
Try some Alaska Trophy Trout Fishing for some exciting fast action fall trout fishing in Alaska.